What do you get as a Rote Repertoire Member?
A new Rote Repertoire pack emailed to you every week, with a summary of the main teaching points, performance tips and creative ideas

Access to all past and future packs

Access to all videos: teaching tutorials plus performance demonstrations, and ideas for composing

Access to discussion forums

Studio licensed material – one membership gives you repertoire for ALL your students

Bi-monthly BONUS pieces! (that's six extra pieces per year!)

Huge saving compared to buying packs individually
What's in a Rote Repertoire Pack?
Downloadable pdf sheet music for Levels 1, 2 and 3 (studio licensed)
Downloadable pdf teacher guide
Downloadable audio tracks for Levels 1, 2 and 3
Access to video teaching tutorials and performance demonstrations for Levels 1, 2 and 3
Access to bonus video for Level 4 creative ideas
Access to discussion forum/comments section
Access to teaching demonstration videos (selected pieces only)
Membership FAQ
Do I have access to all repertoire packs?
Yes! As a member you have access to every piece ever released. As the collection grows, this might change and future members might only have access to the previous month. Joining now has a huge benefit!
Are the pieces emailed in a certain order for level of difficulty?

No, it's randomly ordered. All teachers have a range of students, so the level of difficulty changes from week to week. Whilst every piece in the Rote Repertoire series is manageable for pianists in their first two years of learning, intermediate students will pick them up far more quickly and advanced pianists can use them as a super-quick sight reading exercise in the lesson!
Can I send the pieces to my students?

Yes! Each piece is studio licensed so that you can send the pdf sheet music and the audio files to your students. The only thing you can't send is the video content – this is not downloadable.
If I stop my membership will I still have access to the packs?

No. You would need purchase packs individually for the pieces you want to access.
Can anyone become a member?

Absolutely anyone can become a member! There are many adult students who enjoy having material sent to them, and parents who have multiple children learning piano will find this a cost beneficial way of purchasing repertoire!
Download Your Free Quick Start Teacher Guide Here
Your Host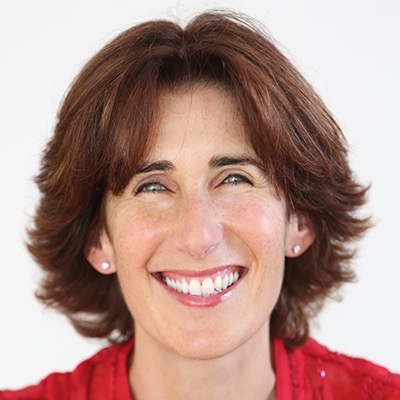 Samantha Coates is an internationally renowned author, presenter and pedagogue. She is an Australian pianist and teacher with over three decades of experience in both private and group piano tuition. She is also the creator BlitzBooks, a music education series that has brought fun and laughter to the areas of music theory, instrumental technique and sight reading. Now with the new release of her Rote Repertoire Series, she hopes to revolutionise the approach to rote learning and reinvent the pathways to efficient sight reading.
Rote Repertoire Packs You Can Access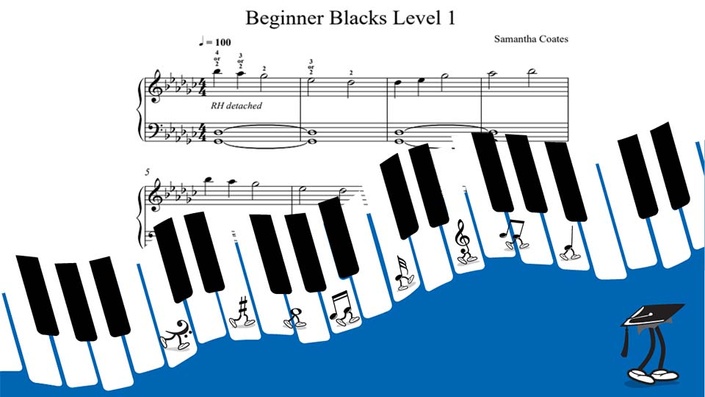 Beginner Blacks Levels 1-3
An early elementary piece entirely on black notes. Students need to be able to reach a span of a 5th to play this piece.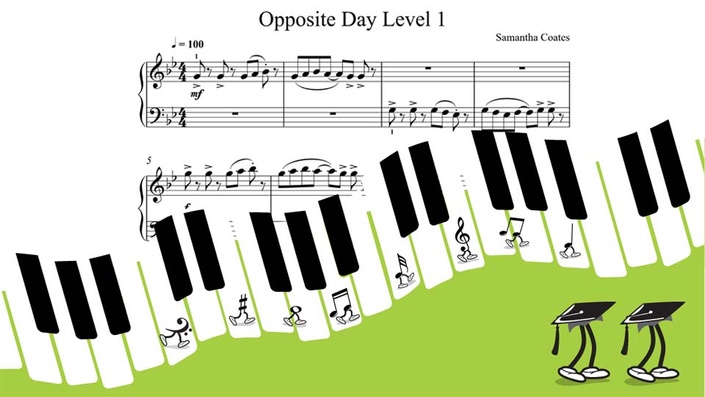 Opposite Day Levels 1-3
An elementary/late elementary piece based on an extremely familiar and popular rhythm.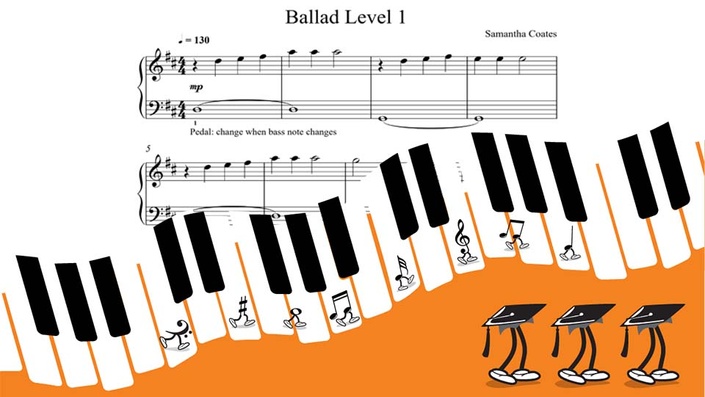 Ballad Levels 1-3
A contemporary ballad-style piece which appeals especially to the older beginner or adult student.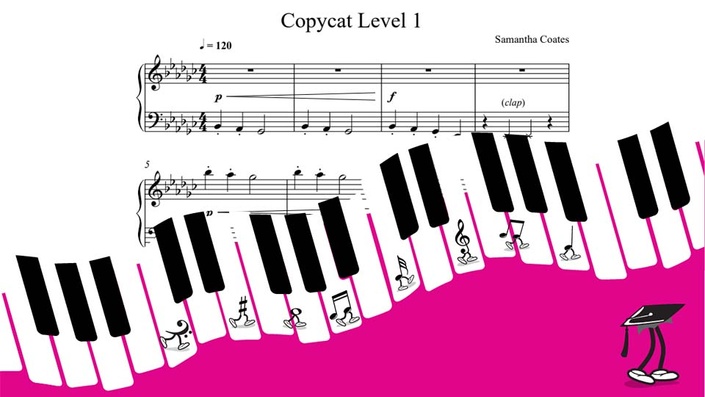 Copycat Levels 1-3
A very simple piece all on black notes, with hands copying each other.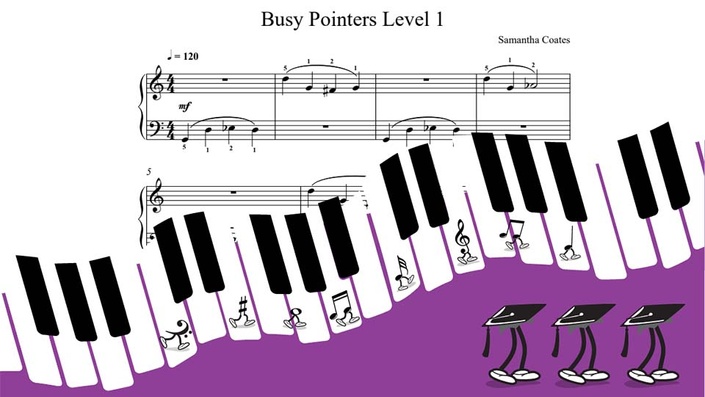 Busy Pointers Levels 1-3
A fun piece that keeps pointer fingers (2nd finger) busy in both hands.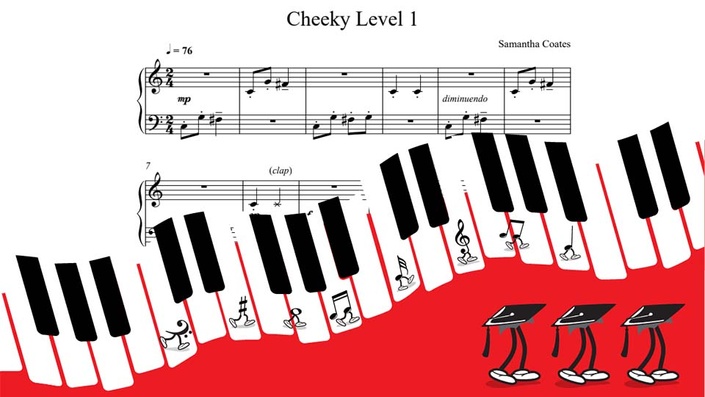 Cheeky Levels 1-3
Cheeky gets its name because of the clapping and finger-snapping that makes up a big part of this piece!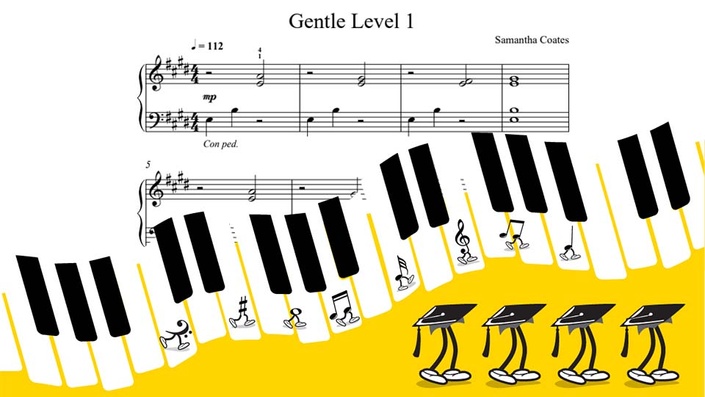 Gentle Levels 1-3
Gentle is a calm and flowing piece that appeals to adult students and slightly older beginners.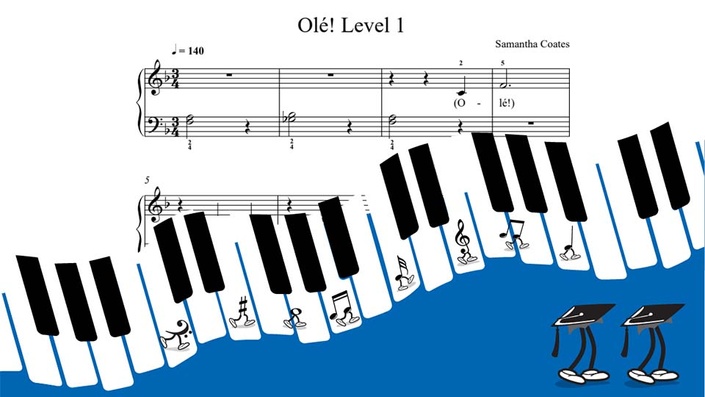 Olé Levels 1-3
Olé is an easy piece which incorporates 2-note chords in the left hand and has a Spanish flavour.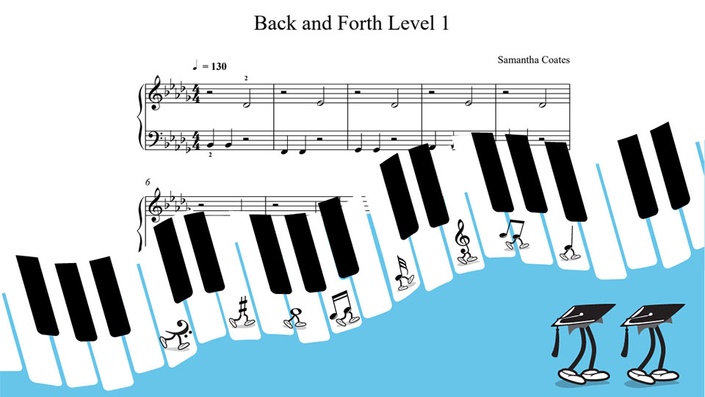 Back & Forth Levels 1-3
Back and Forth has a groovy rock feel to it. It is in a very comfortable hand position and appeals to all ages.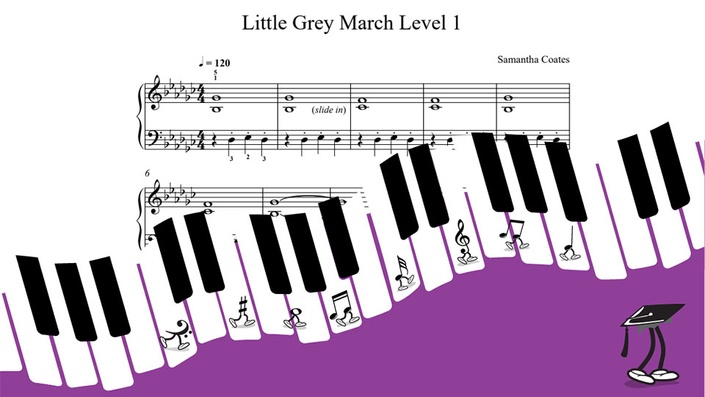 Little Grey March Levels 1-3
A fun piece for beginners who can comfortably reach a 6th. This pack contains a BONUS 'Mini Grey March' for smaller hands.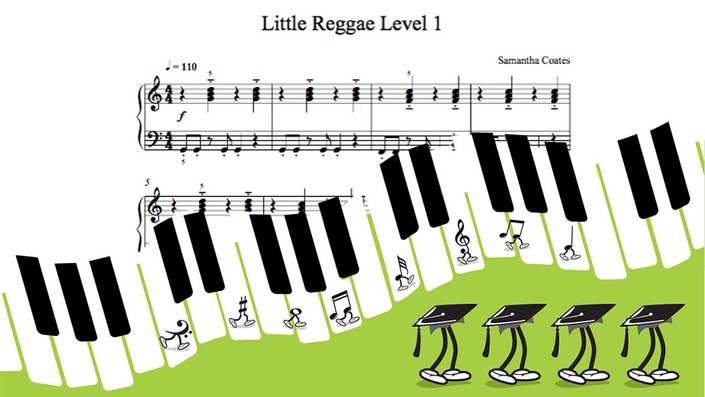 Little Reggae Levels 1-3
A miniature in Reggae style, with heavy chords on beats two and four.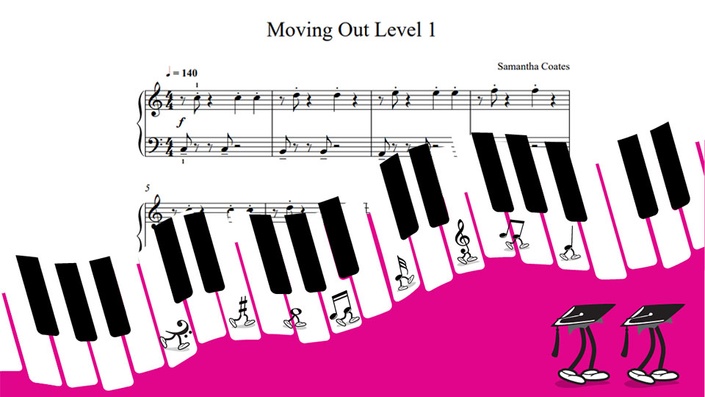 Moving Out Levels 1-3
A piece with quirky articulation and rhythm, and which is literally 'moving out' from a C position.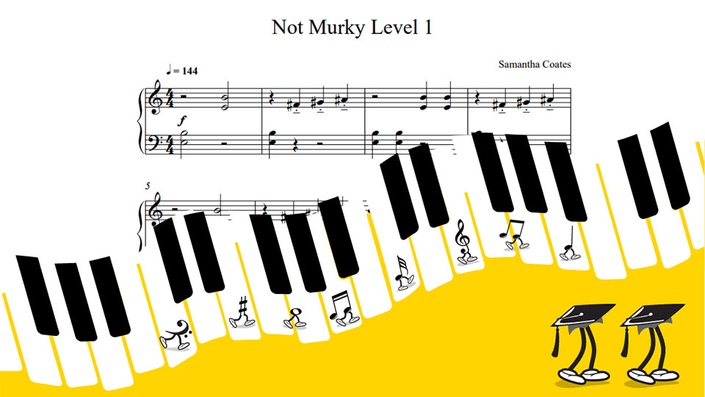 Not Murky Levels 1-3
A short, quirky piece that needs good staccato to make it sound not murky!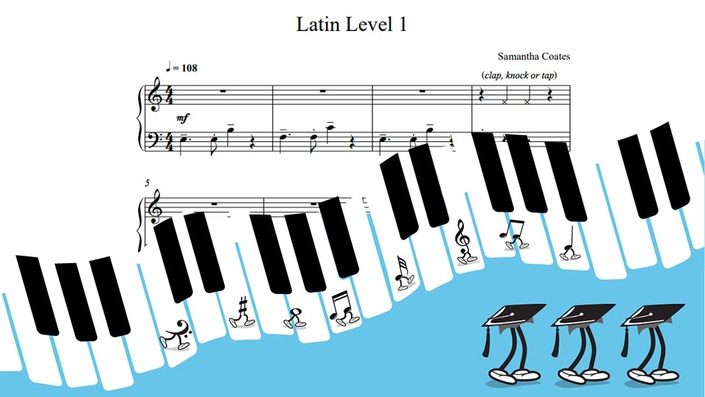 Latin Levels 1-3 plus BONUS remix
A piece in Latin-American style with chords, interesting articulation and some clapping.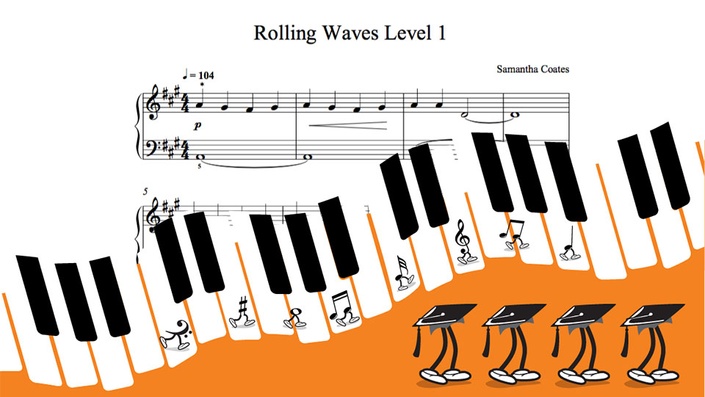 Rolling Waves Levels 1-3
A flowing, contemporary piece that appeals especially to adults and older beginners.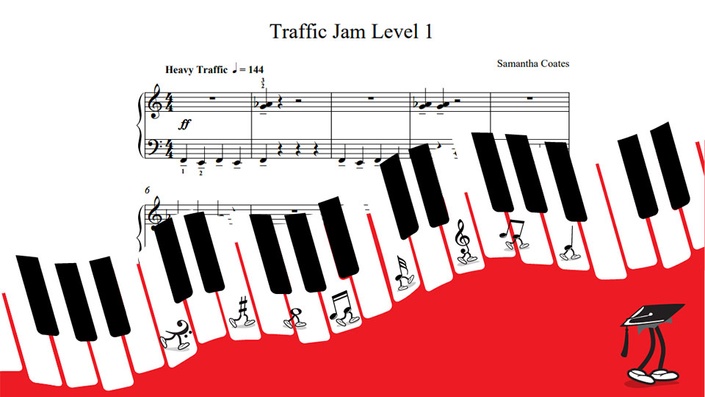 Traffic Jam Levels 1-3
An amusing piece which helps beginner students to develop a heavy tenuto sound.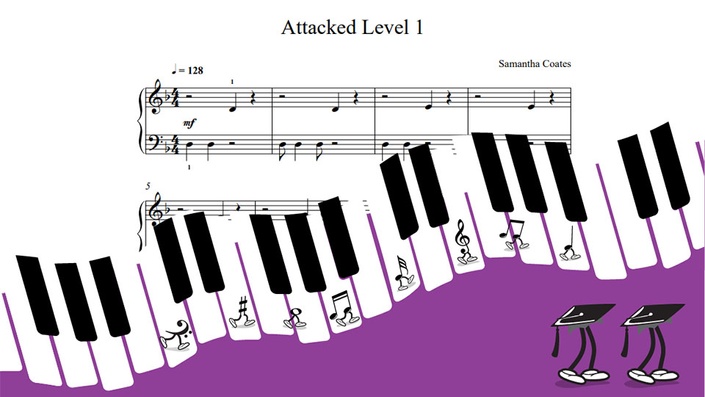 Attacked Levels 1-3
An energetic, syncopated piece featuring intervals of 2nds, 3rds, 4ths and 5ths.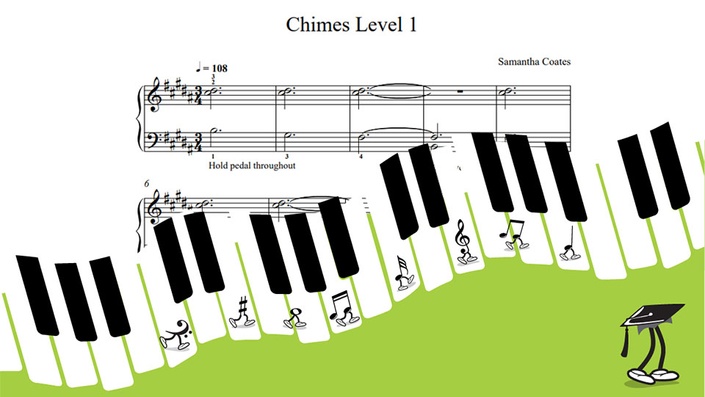 Chimes Levels 1-3
A very easy pentatonic piece for beginners, with pedal and crossing over of hands.
Original Price: $153
Membership gives you access to all current and future repertoire packs. You'll be emailed a brand new piece every week,
including all support materials!
Become a member today! Please note all prices are in US dollars